Precision Equipment Division
Smaller and finer. Misuzu's Precision Parts Division, which started from the manufacture of watch movement parts, has a technology history that reveals a continuous pursuit of cutting-edge, small, and high-precision products. The independent technology and know-how built up during that history have borne fruit in the area of press working, ranging from micro-miniature and thin parts to nonmetal materials. Such successes have also enabled Misuzu to meet ever-diversifying industrial needs and to manufacture and provide precision mechanism components and parts. From die design and manufacture, to press working and surface treatment, the company's integrated system delivers micron-order shape accuracy.
Technology
Through technologies such as these, Misuzu is able to meet a broad range of requests.
Film packaging service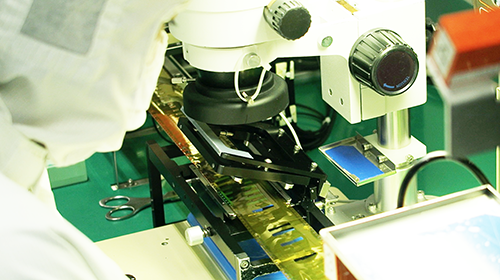 Misuzu has a vast amount of state-of-the-art equipment, making flexible production support possible in the area of reel-to-reel COF packaging. From the circuit board design, it is possible to accommodate diversifying circuit board patterns and precision bonding pitches. Misuzu can suggest lines that are coherent all the way to the electric characteristic inspection. In addition, by making use of batch bonding and quick connection technology, enhanced production and mass production of highly complex products are possible.